22 Dec

Flagstone: A Popular Building Stone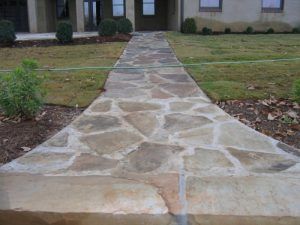 Flagstone is a natural landscaping stone that is quarried from stone deposits all over the world, and is growing in popularity among Oklahoma home owners. Homeowners use flagstone to create a dynamic, classic look to driveways and walking paths making it an admired and sought after building material! Flagstone affords a pleasing natural appearance towards your residential landscape or flagstone outdoor patio. The variety of shapes, colors, textures and finishes available have made flagstone pavers one of the most attractive types of pavers to be used in residential applications such as patios or walkways. Flagstone and fieldstone are among the most frequently used hardscape products to build stone walkways, a custom outdoor kitchen or a flagstone patio.
Green Acre Sod Farm carries many different shades of flagstone (view flagstone photos) that are used in various paving applications. Flagstone is cut into various thin slabs of stone in different shapes and sizes of pavers. Some types of flagstone include quartzite, slate, limestone and bluestone.
Your Oklahoma Flagstone Dealer
Green Acre Sod Farm carries the largest selection of flagstone in Oklahoma. We want to help you select the proper type and color of flagstone for your driveway, patio, retaining wall, walkway, or outdoor living space project. Our Oklahoma landscape professionals serve locations in Tulsa, Owasso, Claremore, Bartlesville, Grove, Lawton, Oklahoma City, and Edmond. We will gladly give you the answers you seek to help you decide which product best suits your unique taste, and budget.